Current Status of The Haqqani Network
Currently, The Haqqani Network operates out of the Federally Administered Tribal Areas in Pakistan, along the Afghan-Pakistan Border. They utilize Pakistan as a sanctuary area because they are seen as a key ally by the ISI. The Haqqani Network administers many areas and allows other terrorist groups such as Al-Qaeda, Lashkar-e-Taiba and Jaish-e-Mohammad to operate in their jurisdiction. Starting in 2012, The Haqqani Network began to shift back to Afghanistan. Drone strikes and surgical raids devastated the Haqqani Network in Pakistan and with the US Withdrawal starting, they felt safer in Afghanistan.
The current state of the Haqqani Network is designed to leverage their past success while setting them up for a position of power in Afghan politics for the future. They conduct regular insurgent warfare against NATO and US forces, but also reach out regularly to the Afghan government stating their goals of ousting the foreign invaders and setting up a completely Islamist government. Usually, these calls do not fall on deaf ears, and the Afghan government is more willing to work with the Haqqani Network than with the Taliban. The Haqqani Network's extensive foreign contacts also help when conducting negotiations; in 2012 the United States even held talks with the Haqqani Network through the network's connections with Pakistan. Despite multiple talks and attempts at peace, the Haqqani Network continues to train, finance and carry out terrorist and insurgent attacks to the current day.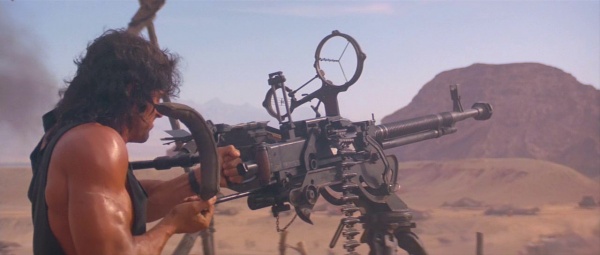 Rambo III was quite different from my experience in Afghanistan.
Some Conclusions About The Haqqani Network
The Haqqani Network is such a dangerous terrorist group because they leverage international financing and fighters in a very surgical manner. Other groups, like ISIS and Al-Qaeda have a worldwide focus, executing attacks in varied nations. While these attacks may cause fear and terror, life usually goes back to normal for. The Haqqani Network though, is able to leverage international financing and fighters to wage local insurgency and attacks. In other words, they are able to concentrate the resources and aims of worldwide terrorists into one specific cause and area. By using education in conjunction with their terrorism and insurgency, they also have effective propaganda and reach into the households of the areas they control. By studying this group and limiting the foreign influx it prevents them from waging insurgency and forces them to carry out terrorist attacks on local populations to retain control, and if this is coupled with effective education from counter-terrorist initiatives eventually people in affected areas will see the heinous nature of The Haqqani Networks.
Sources:
BERGEN, P., FISHMAN, B., & TIEDEMANN, K. (2010). INSIDE TALIBANISTAN. Foreign Policy, (182), 68-69
Bergen, P., & Tiedemann, K. (2011). Washington's Phantom War: The Effects of the U.S. Drone Program in Pakistan. Foreign Affairs, 90(4), 12-18.
Hoffman, B. (2012). Combating Terrorism: Adapting Global Strategy to the Evolving Threats of a New Decade. Georgetown Journal of International Affairs, 13(2), 91-97.
Indurthy, R. (2011). THE OBAMA ADMINISTRATION'S STRATEGY IN AFGHANISTAN. International Journal on World Peace, 28(3), 7-52.
Krasner, S. (2012). Talking Tough to Pakistan: How to End Islamabad's Defiance. Foreign Affairs, 91(1), 87-96.
Lefeuvre, G. (2012). Afghanistan's future lies in its past. In Genrich T. (Author) & Kristianasen W. (Ed.), The Best of Le Monde diplomatique 2012 (pp. 132-140). Pluto Press.
Maley, W. (2012). Afghanistan in 2011: Positioning for an Uncertain Future. Asian Survey, 52(1), 88-99.
Pakistan and the World (Chronology: July – September 2011). (2011). Pakistan Horizon, 64(4), 121-136.
RIEDEL, B. (2014). THE AFGHAN MUJAHEDIN. In What We Won: America's Secret War in Afghanistan, 1979–89 (pp. 40-55). Washington, D.C.: Brookings Institution Press.
TOMSEN, P. (2011). Pakistan: With Friends Like These… World Policy Journal, 28(3), 82-90.
Wagner, C. (2010). Pakistan's Foreign Policy between India and Afghanistan. Sicherheit Und Frieden (S F) / Security and Peace, 28(4), 246-251.
Williams, B. (2012). Soviet Rule, the Mujahideen, and the Rise of the Taliban. In Afghanistan Declassified: A Guide to America's Longest War (pp. 125-183). PHILADELPHIA: University of Pennsylvania Press.